THANK YOU on behalf of researchers from Southampton, Nottingham, Newcastle and King's College London Universities for your help with our recent survey. We thought you would be interested in the results.
What was the survey about?
We want to develop better help for children with ADHD who don't sleep well. To guide our project, 168 of you told us about sleep problems in your children.
How old were the children in the survey?
Ten were under 5 years, most, 95, were aged 5-10 years and 63 were teenagers.
We know that up to 73% of children with ADHD have sleep problems.
In this survey, 85% (142) of children had a sleep problem that had lasted for at least 3 months and another 4% (7) had a sleep problem in the past that had got better.
This does not mean that more children have problems than we think – it probably means that parents and carers chose to fill in the survey because their child had a problem.
We were interested in what aspect of sleep was a problem.
Parents and carers told us that most children (87%) had difficulty settling to sleep; 38% had difficulty staying asleep and 32% had early morning waking.
So, the most common problem was falling asleep at the beginning of the night.
Next, we were interested in whether parents and carers had discussed the sleep problem at their child's ADHD clinic. Most (89%) had reported the sleep problem to the service looking after their child.
What happened next was interesting.
Only 2/3 of children were then offered any help.
Where help was offered, for most children (77%) this was melatonin (see figure).
In 9/10 children melatonin was prescribed without any supporting advice, such as how to limit screen time, healthy bedtime routines and how to deal with challenging behaviour at bedtime.
Nonetheless melatonin was helpful to 2/3 of those who took it.
Only a few children were offered any directed sleep therapy even though we know from studies in other countries that behavioural sleep interventions can be successful in children with ADHD.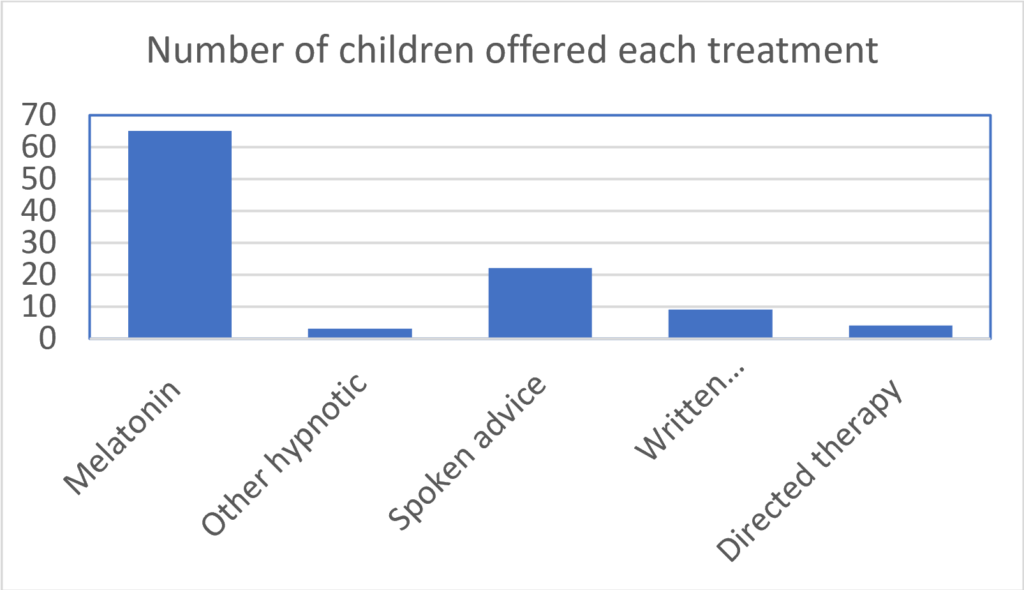 Overall, of the 142 children with sleep problems only 45 or 31% were helped by treatment. This does suggest that there is a need for more available treatments for sleep problems in ADHD.
We will now be seeking research funding to study this further and are interested to develop a digital intervention to guide parents to help their child with ADHD sleep better.
We will need parent and carer advice as we develop our plans. If you would like to register your interest in this project please contact Dr Cathy Hill Associate Professor of Sleep Medicine at the University of Southampton on [email protected]